Description
Introduction
This Mercedes CarPlay retrofit solution from Unique Auto Developments enables you to use full wireless/wired Apple CarPlay and wireless/wired Android Auto functionality on your cars original screen.
Designed to work with the standard Mercedes-Benz factory audio in 2015-2018 A/B/CLA/GLA cars. Retains full original factory info/radio displays on car screen. Provides full integration with factory radio controls.
Key Advantages
Full wireless/wired CarPlay functionality for iPhone 5 or later.
Full wireless/wired Android Auto functionality for compatible Android phone models.
Screen mirroring function for iPhone and Android phones.
Use your favourite phone apps for GPS navigation, Google Maps, Waze and Apple Maps are all available and be notified of the live traffic information
Allows handsfree calling and messaging via Siri
Voice control via Siri
Allows aftermarket front/rear/360 camera input. (Dynamic guidance lines are supported for vehicles with automatic transmission)
Play music from your favourite phone apps. Sound comes out from your Mercedes factory stereo system via AUX input.
Wired connection for enhanced stability and it also charges your phone at the same time
Can be connected via both Bluetooth/WiFi or USB port (included in the kit) to keep your phone charged at the same time.

The USB port included can also accept USB flash drive to play music and videos. 

Full button control.
Easy installation. All the wires are fully plug and play.
We provide detailed fitting instructions in the box.
One year warranty and lifetime email support.
Fitment
Fits A/B/CLA/GLA 2015-2018. Can fit both Audio 20 and COMAND equipped vehicles. Please note this unit will not fit 2014 – early 2015 cars with 5.8″ screen. Please send us a picture of your dashboard if you are unsure of fitment.
It fits both LHD and RHD vehicles.
Installation steps overview
Removal of left and right air vents (removal tool included in kit)
Undo 2 x torx bolts below holding radio unit, pull out to reveal connections. Plug in our wiring (completely plug and play inline with factory connectors) stow interface box in space behind radio, route usb cable for phone. Route wiring and install microphone in central overhead console. Refit.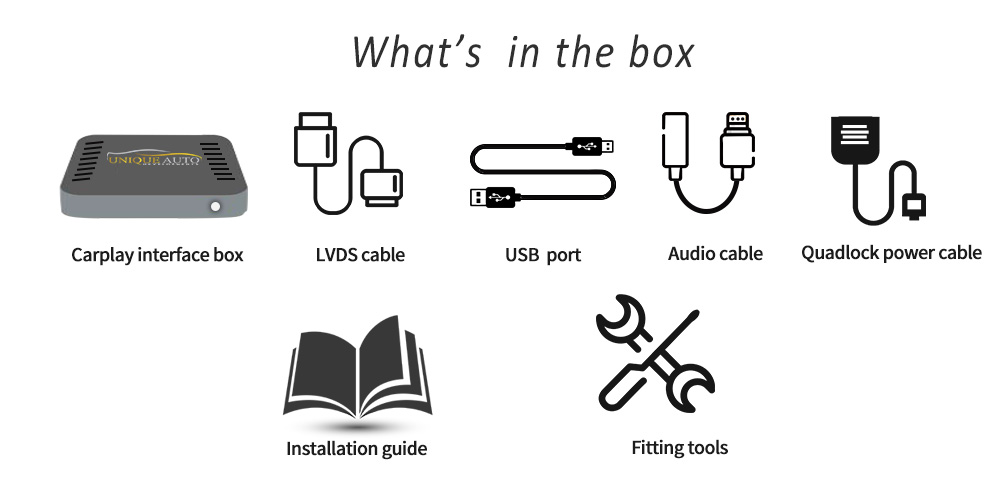 FAQ 
1. Will I have to change my original car screen or make wiring modifications?
This kit allows you to retain the factory fitted display screen in your car, and all wiring is plug and play, so no cutting/modifying wires etc is required.
2. Will sound come out of my car stereo?
Yes, this unit will allow music playback, and all sounds to be emitted through the car speakers, simply switch the Mercedes radio to 'AUX' mode for playback.
*Reversing camera shown is sold separately.
Please note – an Apple iPhone is required for CarPlay functionality. Android Auto needs to be connected via a USB cable and the new mic is required to install for using Android Auto voice control function. We don't guarantee Android Auto will be compatible with your Android phone model.