Description
Please watch the demonstration video of this CarPlay kit installed in a 2012 A1.
Key advantages of the Unique Auto Developments CarPlay kit include –
• Full CarPlay functionality for iPhone 5 or later
•Use your favourite phone apps for GPS navigation, Google Maps, Waze and Apple Maps and be notified of the live traffic information
• Allows handsfree calling and messaging
• Voice control via Siri
• Inbuilt interface for aftermarket front, rear and 360 cameras. 
• Play music from your favourite phone apps, Spotify, Apple Music, Amazon, etc. Music comes out from Audi factory stereo system.
• Wired connection for enhanced stability and it charge your phone at the same time
• Steering wheel control and touch screen control (touch control is installed by adding a touch screen overlay to the factory screen and this is optional to install). Touch screen function is not supported by Q3 equipped with MMI high head unit.
• We provide detailed installation instructions in the box after purchase.
• One year warranty and lifetime email support.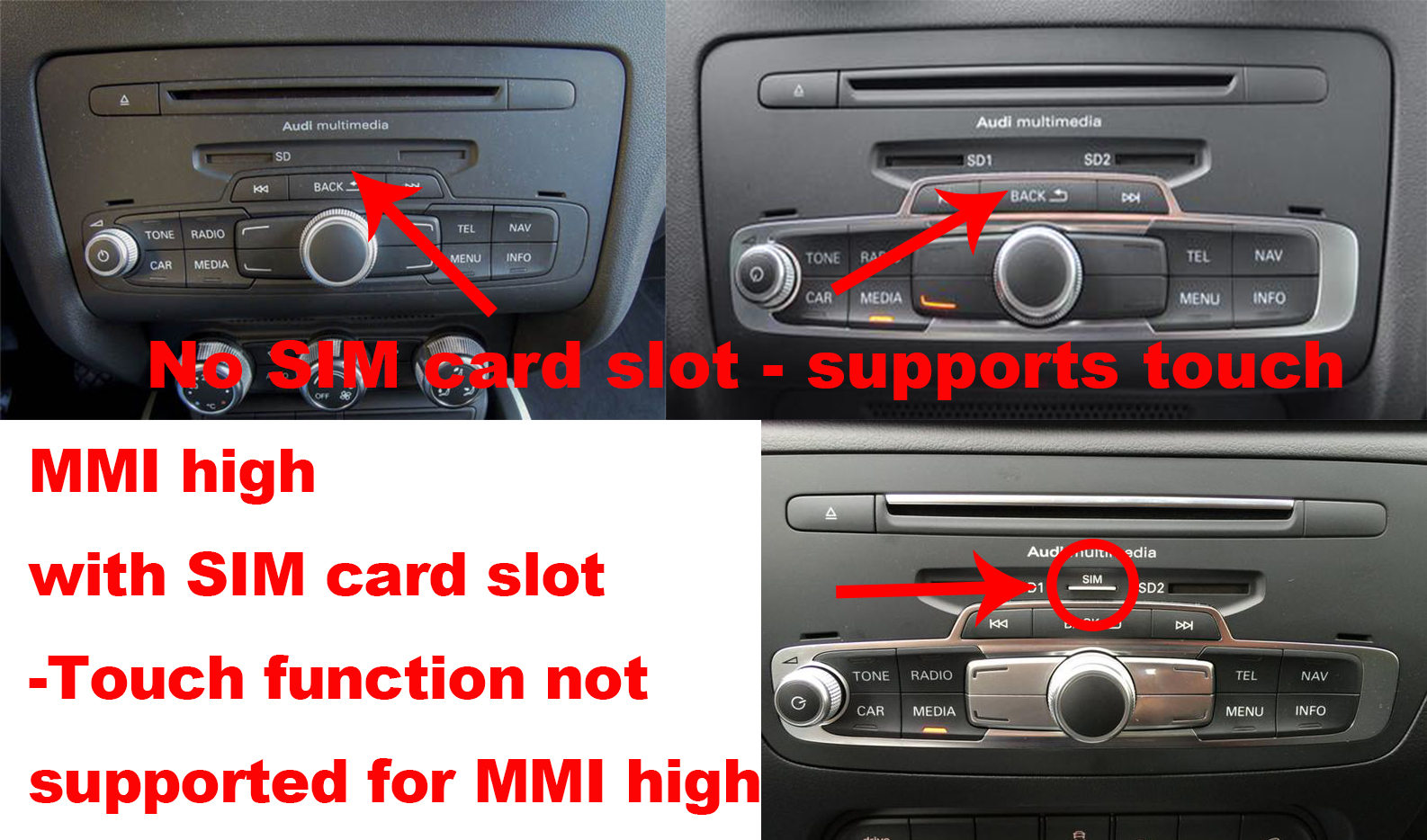 Installation steps overview
It requires temporary removal of your multimedia unit (with release keys included) and your climate control (with trim tool included). Then just plug in our wires behind the multimedia unit (plug and play) and locate the interface box behind there. Refit everything.
If you would like to install the touch screen overlay (optional installation step), you will need to remove your screen and apply the overlay. (This only applies to the CarPlay kit with touch support.)
Frequently Asked Questions
1. Will I have to change my original car screen or make wiring modifications?
This kit allows you to retain the factory fitted display screen in your car, and all wiring is plug and play, so no cutting/modifying wires etc.
2. Will sound come out of my car stereo?
Yes, this unit will allow music playback, and all sounds to be emitted through the car speakers, simply switch the Audi radio to 'AUX' mode for playback.
3. Where do I plug in my phone?
Our kit comes with a USB ports. This port is for CarPlay where you can plug in the lighting cable. When using Apple CarPlay, simply just connect your phone to the lightning cable, it will charge your phone at the same time. This USB port also allows you to plug in a flash drive and play music and videos.
When checking out, please leave a note of the following information
The year/model of your car
Whether you have the MMI high system or Audi Multimedia system. See photo above. Installation manual is different for the two systems.
Whether it has AMI port in your Armrest (this requires an extra cable, so we will then include it for you)