The following method is applicable for IDCORE interfaces running software version 25/08/2020 or later. To receive the latest software, please check software update link
1) Please connect your iPhone using a Genuine Apple Lighting Cable to the IDCORE USB port (not the vehicles original USB port)
2) Ensure that Wi-Fi and Bluetooth are both active on your iPhone as shown below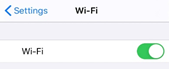 3) Tap ALLOW to both of the below pop ups and have the lightning cable connected for 5 seconds. (If you don't see these two pop ups, please follow troubleshooting method 1 below first and start again.)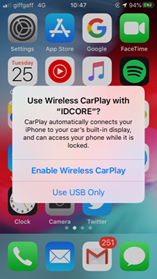 4) After 5 seconds have passed, disconnect your iPhone from the Lightning Cable, then wait for up to 2 minutes. CarPlay should now load wirelessly. Please set a timer on your iPhone for 2 minutes and wait patiently. This step can't be rushed. Older iPhones may take 2 minutes to connect and iPhone 7 and above usually takes less than 1 minute.
Connection troubleshooting –
If you are having connectivity issues with wireless CarPlay, please enter the settings-general menu on your iPhone. Then find the CarPlay menu and forget "IDCORE" from 'My cars'. Then repeat the connection process on previous page.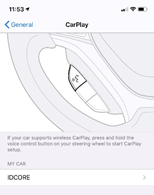 2. If your connection drops frequently, please check whether there's any VPN apps installed on the phone, or apps which influence the phones 'network settings' Please uninstall the VPN apps and try again.
3. Please do not change the Bluetooth name from "IDCORE" on our interface box, this will cause instability and difficulty in connecting wirelessly.
4.Phillips Hue Light Bulbs and Phillips Hue Wireless Lighting Bridge can affect reliability of wireless CarPlay connection.